Whether it's hardscaping or softscaping, Externals has the expertise, equipment & resources to bring your vision to reality which will create a lasting impression to your clients.
Project Planning,
Scheduling & Execution
Planter Boxes
Mulching
Tree Planting
Artificial & Natural Turf
Decking
Paving
What is Landscape Gardening?
Landscape gardening is all about improving the visual appeal of your outdoor areas. From the street view to private areas, your landscape gardeners in Perth have a range of methods at their disposal to enhance your commercial property. Typically, landscape gardening comprises several different factors, such as paving, decoration, planting trees, paving, preparing garden beds, building retaining walls and much more.
Basically, if you want more beautiful outdoor spaces and better functionality, landscape gardening is a good place to start. When you hire landscaping services in Perth, you get expertise in plant and soil selection, structure construction and everything else that turns your outdoor space into a sanctuary.
Benefits of Hiring a Professional Landscape Gardener
There are plenty of reasons to consider hiring a professional landscape gardener to work on your commercial property. Firstly, they have the expertise and design knowledge to significantly improve the building's visual appeal. It's not a matter of turning over some garden soil and planting some flowers. Landscape gardening is a comprehensive restructuring of your external areas.
Landscapers create more functional outdoor spaces, too, whether it's decorating common areas, making space for children's play equipment or designing and installing gardens. This combination of aesthetics and functionality increases your property's value, and also has many environmental benefits, such as choosing the right plants and trees for your local area.
Project Planning, Scheduling & Execution
Mulching
Tree Planting
Paving
Project Planning, Scheduling & Execution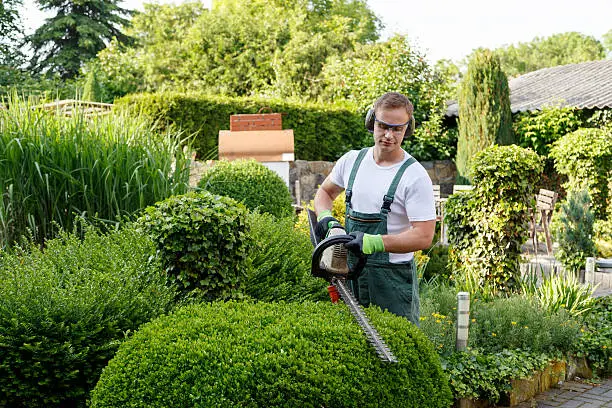 Our professional project management approach ensures our landscape gardeners in Perth offer a completely streamlined service.
With careful planning, we make sure your landscaping project goes smoothly and seamlessly, delivering exceptional results every time. From concept to project completion, we're with you every step of the way.
Mulching
Tree Planting
Paving
Choosing the Right Landscape Gardener
Whether you need some minor landscaping or a complete overhaul, working with qualified, experienced professionals is crucial. Landscape gardeners in Perth without the appropriate industry experience simply won't be able to offer you what our team can. Always look for experience, and don't be afraid to ask for testimonials or evidence of previously completed jobs.
Another major factor is budget. You want great value for money, such as finding experienced landscapers at affordable prices. Be wary, though, the cheapest operators are not likely to be the best. Also, ensure your landscape gardener communicates well and responds to phone calls. Any landscape maintenance in Perth should be a collaboration between you as the client and your landscaping professional.
DIY vs. Hiring a Professional Landscape Gardener
Australians love a DIY project, especially when it comes to beautifying outdoor areas. However, before embarking on a DIY project, you must consider whether it's the best option. There's a popular misconception that DIY is cheaper. But unless you already have all the tools, the costs can add up quickly – not to mention the time you spend on the project.
Professional landscapers have the knowledge and expertise to get the job done efficiently and to a high standard. They understand design, environmental factors, and all about the plants and trees most likely to thrive at your location. Remember, you're talking about commercial property, so there are also a lot of safety and insurance issues to consider if you want to go DIY. Ultimately, when you weigh up the difference in expertise, tools, skills, time and effort, hiring a professional landscaper is often the best way to go.
If you're looking for professional landscape gardeners in Perth, make us your number-one choice. We've got years of expertise and deep knowledge of the local climate and conditions, meaning we always offer the best advice. Whether you're building a playground, a relaxing outdoor space or even outdoor dining areas, we're the team to call.
Landscaping can add so much to your commercial property in terms of comfort, functionality and visual appeal. But it also significantly increases your property's value if you ever decide to sell. So, speak to your local landscape gardeners today, and start planning your stunning new outdoor environment.