COMPLETE LANDSCAPE SOLUTIONS
COMPLETE LANDSCAPE SOLUTIONS
COMPLETE LANDSCAPE SOLUTIONS
We recognise that the presentation of a commercial garden is a powerful tool to demonstrate your core business values to existing and potential clients!
We have a great deal of experience creating, adapting and maintaining commercial grounds by forming a custom maintenance program that utilises the principles of form & function to create an outdoor area that reflects your business values.
Landscape Project Planning, Scheduling, and Execution
The Externals Landscape Services team in Western Australia offers design, development, scheduling, execution, and maintenance of your commercial property grounds. 
When it comes to design, we are passionate about the possibilities. But, we are even more committed to making your green space dreams come true. Backed by a reputation of professionalism and reliability, we make it easy for you to achieve your landscape project goals. Our creative planners and landscape architects leverage the advantages of design-build to offer you savings on the overall maintenance costs.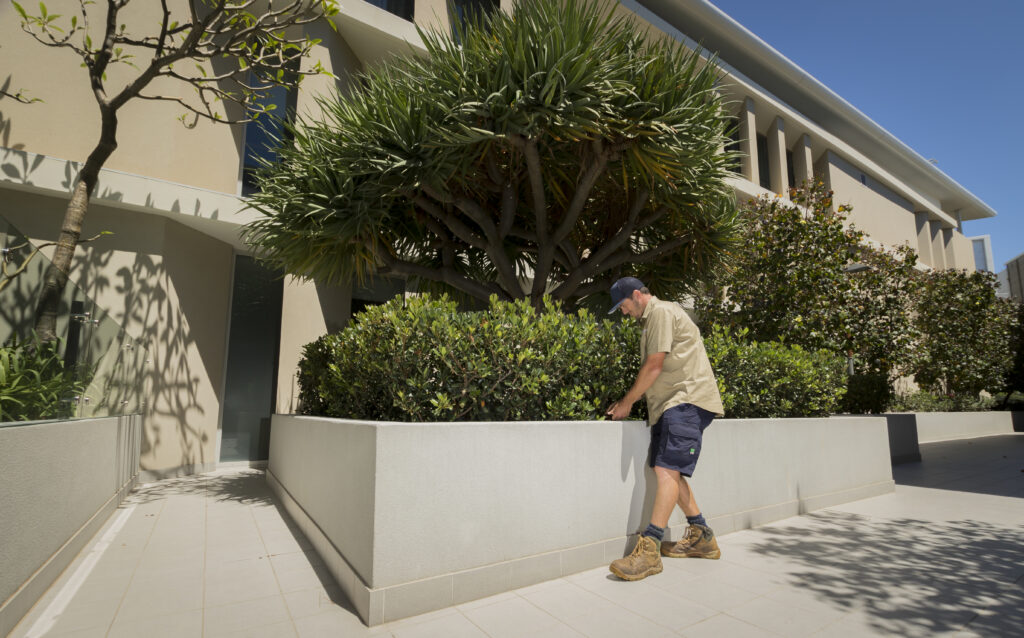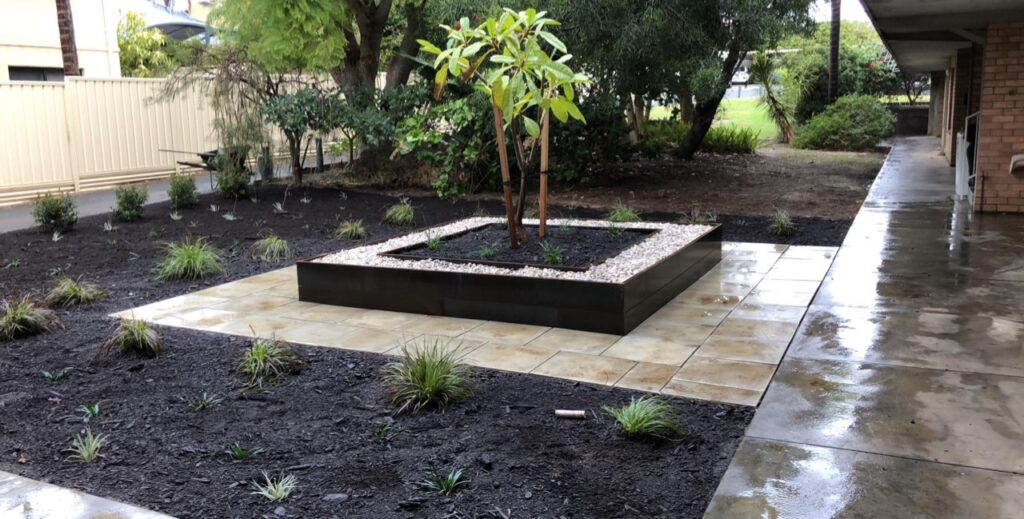 Mulching helps you reduce the growth of weeds on your commercial lawn. It also helps to improve the level of soil moisture so that your plants don't dry out too quickly. Re-mulching your yard ensures your landscape stays weed-free and looks healthy, all year round. 
The benefit of hiring Externals Landscape Services is that re-mulching forms part of your maintenance plan. You don't need to worry about the kind of mulch you need for your space and plants. We take care of that for you so you can just enjoy your beautiful landscapes with pride while running your business.
Planting trees definitely enhances the visual appeal of both your buildings and your landscapes. However, having trees around comes with other benefits too. It helps improve your air quality, prevent soil erosion, and provide a windbreak for outdoor spaces. 
While it may sound easy to just plant trees on your company grounds, there are a few considerations to note. You'd want your trees to be disease-free and always look healthy. As such, you need to examine the soil conditions, get rid of weeds, and consider the neighbouring buildings and businesses.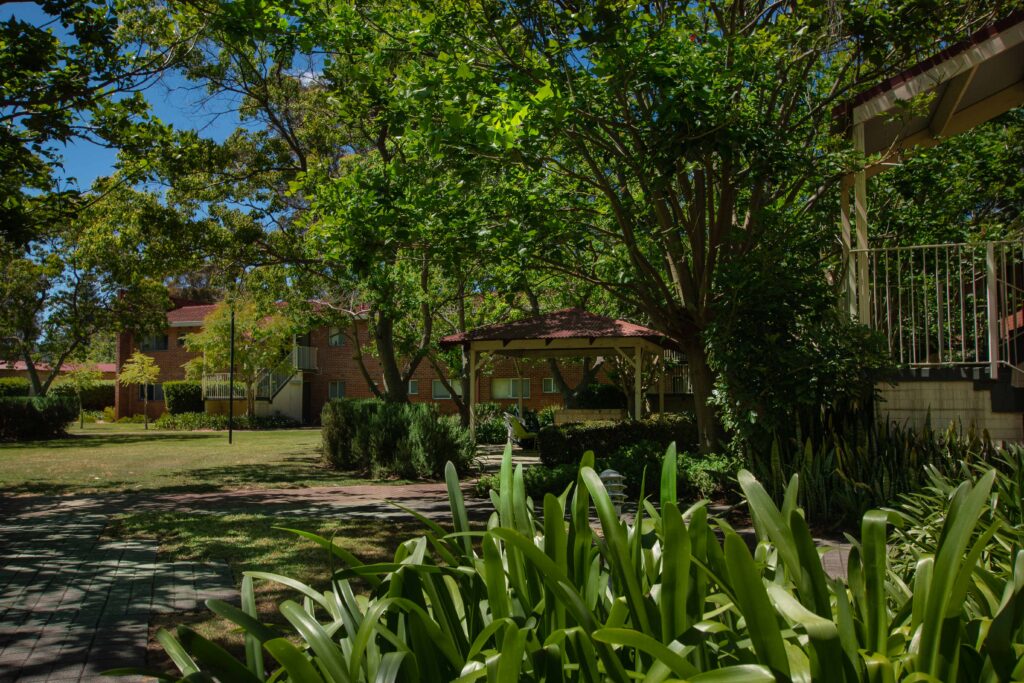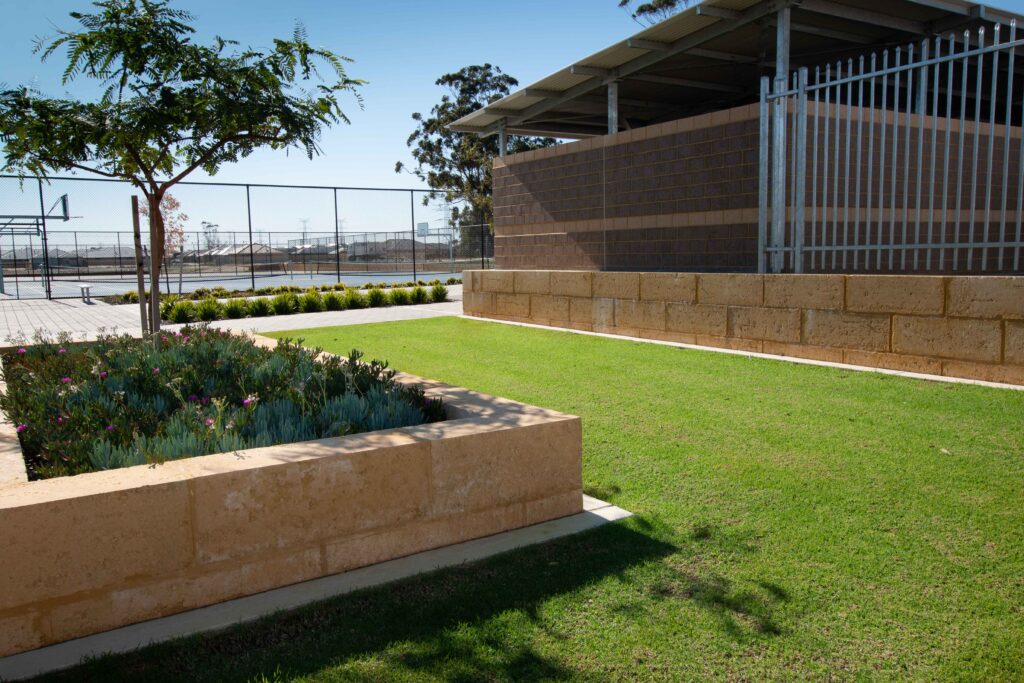 Artificial and Natural Turf
When you think of a lawn, you can probably only imagine it having real grass. While this is an option for your landscape, you could also consider artificial turf. This is an affordable choice and it can look just as good as natural turf. 
There are various factors you need to keep in mind when deciding between artificial and natural turf. A key aspect is your budget and how much money you have available to maintain the grass. Related to this consideration is the purpose of the space. Is it just there to look pretty, or does it have some other purpose? 
The installation of the turf will also help you make a decision. While it is relatively quick to install both, real grass may take a while to grow. On the other hand, synthetic grass looks good immediately. It is very durable too, especially if you think about the hot and harsh Australian sun. And, your artificial lawn doesn't need any water either, so you save some money there too.
At Externals, we are also decking specialists. You can have your choice of natural hardwood timber decking to suit the visual appeal of both your offices and your landscape. We also have options to suit your budget. 
For the decking itself, you need to decide on the kind of wood or go for an eco-friendly composite decking option. Also consider the colour, durability, and impact on the environment. 
Externals Landscape Services can help you with all of these considerations, including ensuring your deck meets local building codes and Australian Standards when you give the go-ahead.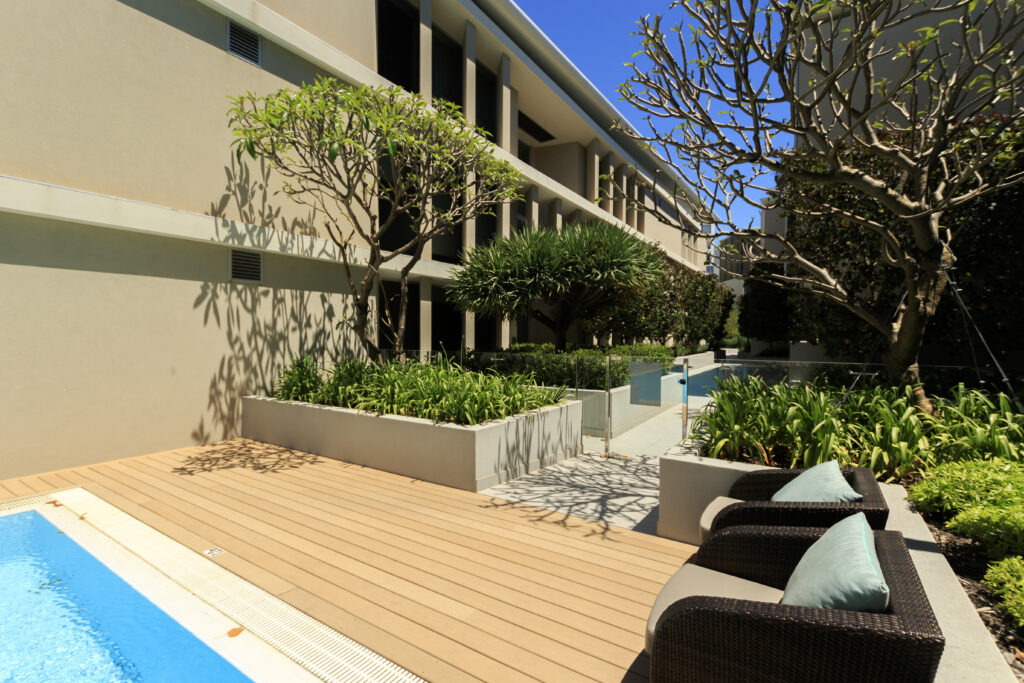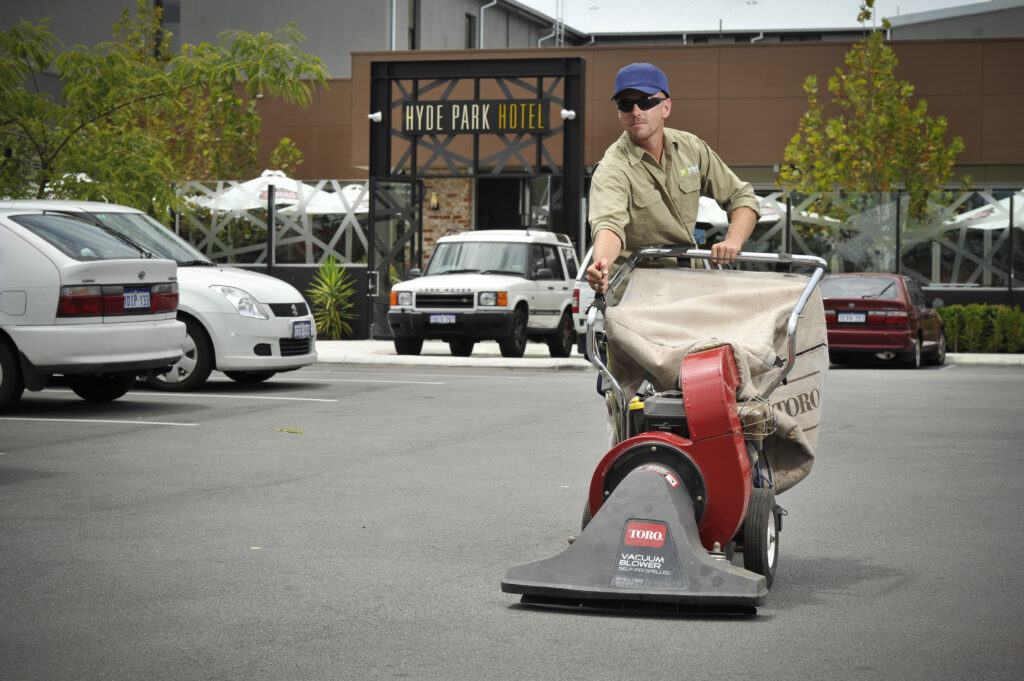 Paving is another landscaper service we offer. You may need pathways from the parking lot to the entrances of your buildings, as well as through your green spaces to show off your planter boxes.
Besides offering new outdoor paving services, Externals also repairs and replaces paving that is cracked, sunken, broken, or chipped. 
For this type of landscape construction, you'll need to consider where you want paved pathways, as well as what kind of paving material you want. Whether you choose natural stone or standard concrete, our landscape construction experts will make sure your paving is both practical and aesthetically pleasing.
Get in Touch With Externals Today to Transform Your Outdoor Space​
To showcase your business values and personality, you need an immaculate landscape. Your outside property is the first thing potential and existing customers and new visitors see. So, you want to make a good, lasting impression. And that's where we come in.
From planning, implementation and maintenance to planter boxes, tree planting, mulching, turfing, decking, and paving, we can do it all! Externals is your all-in-one landscaper partner.
Ready to choose a landscape services partner that focuses on you and your goals for the entire lifecycle of your commercial landscape project? Contact Externals Landscape Services today.
"Would like to say a special thanks to Garreth and the team, who provide a friendly, efficient and prompt service. I am a Strata Manager and dealing with Externals is always a pleasure! You have a great team who are able to assist with all strata jobs."
"Externals have been contracted for the past few years for the gardering at Horizon on Sixth in Maylands. They have done an excellent job with the gardens looking great!"
"Thorough, professional, polite, attention to detail and providing a service to the same standard that I would!"
" Garreth and Cameron demonstrate a high level professional service. They are organised, and able to deliver on their client's requirements. "
" I would highly recommend External Works for your Property maintenance needs. Their service is professional & thorough, the communication was great and my property has never looked better! "
" A professional and friendly service. I highly recommend External Works for your landscaping. "