Commercial Landscaping in Perth
We recognise that the presentation of a commercial garden is a powerful tool to demonstrate your core business values to existing and potential clients!
Our landscape gardeners in Perth have a great deal of experience creating, adapting and maintaining commercial grounds by forming a custom garden maintenance program that utilises the principles of form & function to create an outdoor area that reflects your business values.
Our Commercial Landscaping Services
Commercial Landscaping Projects
Mulching
Tree Planting
Artificial and Natural Turf
Irrigation Services
Paving
Commercial Landscaping Maintenance
Commercial Landscaping Projects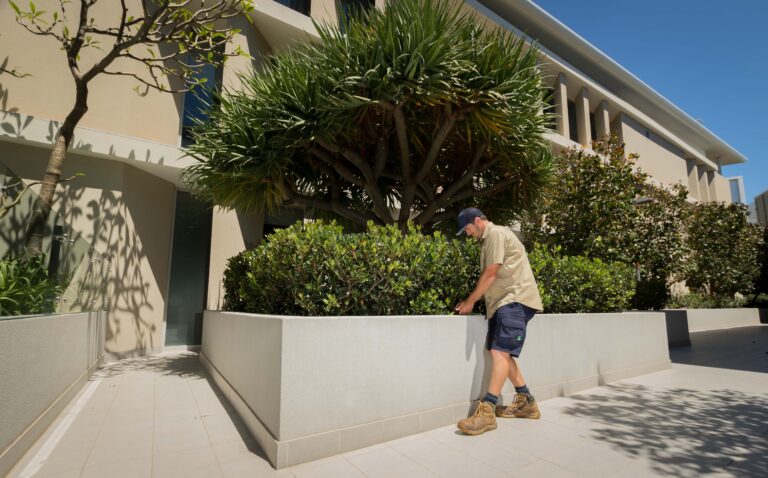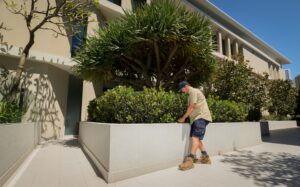 Our experienced landscape gardeners in Perth offer design, development, scheduling, execution, and maintenance of your commercial property grounds.
When it comes to design, our landscape gardeners are passionate about the possibilities. But, we are even more committed to making your green space dreams come true. Backed by a reputation of professionalism and reliability, our landscape gardeners make it easy for you to achieve your landscape project goals.
Our creative planners and landscape architects leverage the advantages of design-build to offer you savings on the overall maintenance costs.
Mulching
Tree Planting
Artificial and Natural Turf
Irrigation Services
Paving
Commercial Landscaping Maintenance
"Would like to say a special thanks to Garreth and the team, who provide a friendly, efficient and prompt service. I am a Strata Manager and dealing with Externals is always a pleasure! You have a great team who are able to assist with all strata jobs."
"Externals have been contracted for the past few years for the gardering at Horizon on Sixth in Maylands. They have done an excellent job with the gardens looking great!"
"Thorough, professional, polite, attention to detail and providing a service to the same standard that I would!"
" Garreth and Cameron demonstrate a high level professional service. They are organised, and able to deliver on their client's requirements. "
" I would highly recommend External Works for your Property maintenance needs. Their service is professional & thorough, the communication was great and my property has never looked better! "
" A professional and friendly service. I highly recommend External Works for your landscaping. "
Get in Touch With Externals Today to
Transform
Your Outdoor Space​
To showcase your business values and personality, you need an immaculate landscape. Your outside property is the first thing potential and existing customers and new visitors see. So, you want to make a good, lasting impression. And that's where our landscape gardeners come in.
From planning, implementation and maintenance to planter boxes, tree planting, mulching, turfing, decking, and paving, we can do it all! Externals is your all-in-one landscaper partner.
Ready to choose a landscape services partner that focuses on you and your goals for the entire lifecycle of your commercial landscape project? Contact Externals Commercial Landscape Services today.
Get Your Business Looking its Best with Externals Commercial Landscaping | Perth WA
First impressions are key to a successful business, and there's no better start than a beautiful commercial landscape.
Externals works with you to offer the best landscape maintenance services for your commercial property. We help you extend the lifetime of your commercial landscape, reduce safety hazards, and protect your landscape construction.
Your property is a reflection of your company image, which is why our goal at Externals Landscape Services is to provide stunning, easy to maintain outdoor environments for businesses across Perth. Whether we design your commercial landscape from scratch, or you just need a hand with its ongoing care, our commercial maintenance experts ensure your property looks its best year round—providing a stunning, safe environment for your staff and clients.
Our people are our strength, and with a diverse combination of horticulturalists, landscapers, tree surgeons and tradespeople, we offer industry leading expertise for all aspects of commercial landscaping.
We pride ourselves in working closely with our clients to create custom maintenance programs, utilising the principles of form and function to deliver outdoor areas that reflect your business values. Whether you're looking for hard or soft commercial landscaping, increased privacy, areas for entertainment, or just a quick spruce up to increase curb appeal—get in touch today to find out how Externals Landscape Services can give your commercial property a boost.
Don't think twice when it comes to hiring a reliable, experienced team of landscape gardeners with the expert knowledge and service offering you need.
Contact Externals Landscape Services today for a quote.