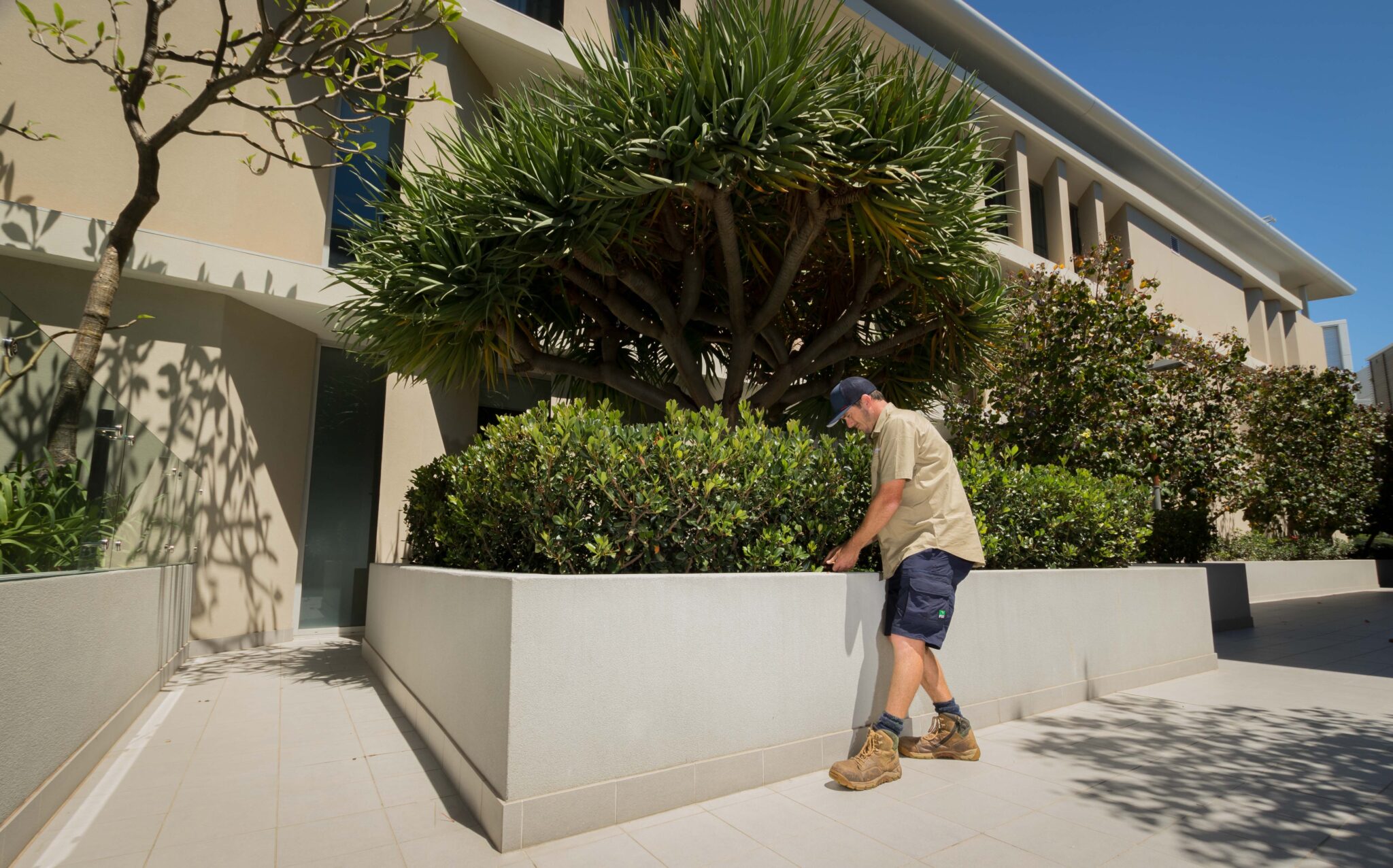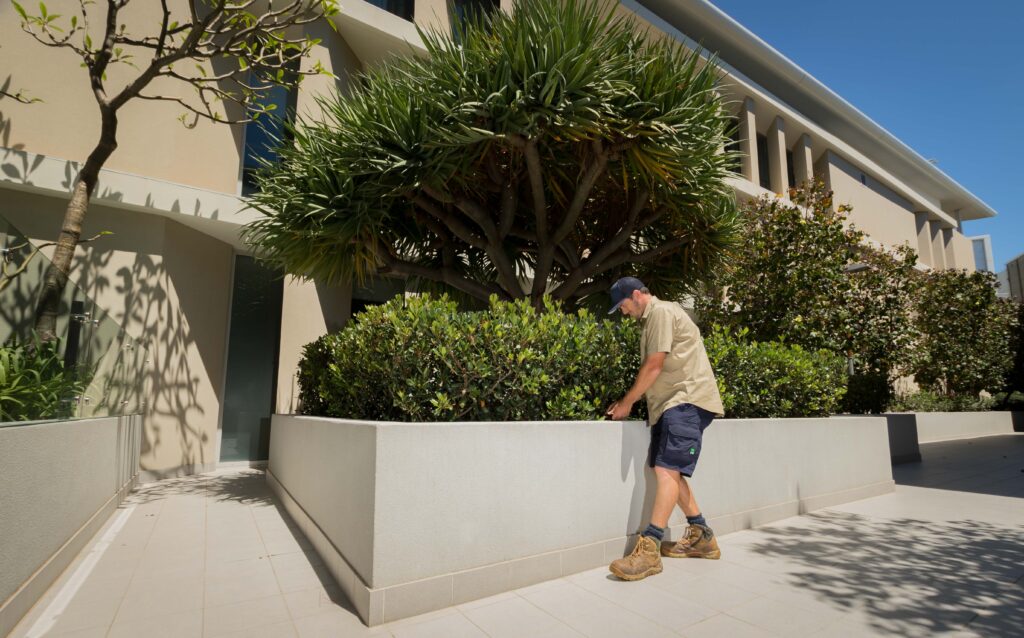 If you're a Perth business owner, enhancing your commercial landscape can work wonders in attracting new clients, enhancing site safety, and setting a positive, productive tone for your staff.
By marrying our tried and tested principles of form and function, you can create an attractive commercial landscape design that your staff and visitors will enjoy, while serving a number of important functions that benefit your bottom line.
As experienced Perth commercial landscape experts, our staff here at Externals Landscape Services have five simple tips to enhance your business's outdoor areas.
Complement your building
If your goal is to impress your visitors and attract great staff, the first principle is to use your commercial landscape to complement your building.
By accentuating the architecture and allowing your building to take centre stage, your landscape can make a positive visual statement that reflects your business and brand values. Perhaps you want to opt for a pared-back, minimalist, yet professional look, or you may wish to create a vibrant setting that encourages social connection. Whichever approach you favour, there are plenty of ways to achieve your goals—and it helps to start with a few key principles.
To accentuate the architecture, make sure your landscape features are the right size and scale so they don't overpower or obscure your property. Set at the right height and distance, trees and pathways can enhance the entrance and guide people to your building, while outdoor lighting can give your property an impressive look at night while helping people move safely around your site.
Delight your staff—and your visitors
Your commercial landscape is an easy, yet often overlooked, aspect of creating a welcoming, productive, and positive workplace. With just a few small touches, you can turn a previously bland outdoor area into a people-friendly social space for your staff—and your visitors.
Many of our clients are starting to understand the importance of workplace wellbeing—especially after the effects of the pandemic. A popular option is to integrate outdoor social areas into their commercial landscape so they can host social gatherings, commercial functions, ad-hoc meetings, or provide a space to escape the indoor buzz and get a few minutes of thinking time.
On a more functional, day-to-day level, consider how your staff like to commute to work and then use your commercial landscape to facilitate their preferred travel methods. Of course, providing ample car parking is one step, but you should also think about walking and cycle routes that connect the various approaches to your building, along with bike storage or bike racks if you're looking to encourage healthy travel options.
Work with the seasons
For business owners looking to enhance their commercial landscape in Perth or the wider Western Australia, a common-sense approach is to make the seasons work to your advantage—rather than fighting against them.
Seasonal plant varieties can work wonders in maintaining a fresh, attractive landscape year-round. In summer, consider hardy, drought-resistant plant varieties that demand less water, helping you save on your usage (and water bills), while also requiring less maintenance. As the seasons change, consider updating your plant choices to align with traditional seasonal colour changes, protecting your commercial property from wilted flowers making the place look unkempt or neglected.
Working with the seasons also offers the opportunity to add colour and vibrancy to your outdoor commercial space—providing warmth and delighting visitors. This is especially effective in areas where you want to make a bold, eye-catching statement, so consider planting bright flower and plant varieties in key spaces, like near roadside entrances, along pathways, and up to your building entrance.
Enhance site safety
We've talked about using your commercial landscape to make your business more aesthetically attractive, and it's also a great tool for improving site functionality too—especially in regard to health and safety.
A well maintained commercial landscape reduces the potential for accidents to pedestrians, visitors, and staff—so make sure your pathways are clear, with no loose paving slabs or areas where someone could slip or injure themselves. The same goes for tree roots, hidden potholes, which could cause damage to vehicles or cyclists, or low height, thorny overgrown bushes that could hurt a passerby.
A smart approach to enhancing your commercial landscape is to consider any areas that you don't want people to go to — perhaps to avoid ground-level items like electricity boxes, first-floor windows, or telephone lines. With those mapped out, the dense landscape can offer an attractive way of maintaining site safety, while avoiding ugly signage or aggressive fencing.
Invest in maintenance
When it comes to making the most of your commercial landscape, leaving enough room in your budget for ongoing maintenance is key. After all, there's no point investing in a beautiful landscape, only for it to lose its appeal six months down the line.
We believe the best approach to keeping your commercial landscape looking and functioning at its best is to create an annual maintenance plan. By having a well thought out, structured plan, your maintenance team will know exactly which tasks need to be completed at specific times of the year, so all of your key landscape components are adequately cared for—whether that's maintaining your irrigation systems, caring for your plants, or cleaning pathways and hard landscaping.
We're also conscious that Perth business owners require good value and often need to adhere to water-wise compliance, which is where an annual plan keeps your maintenance costs low, ensuring no time is wasted, and all of your landscape systems are working effectively.
Enhance your landscape—enhance your business
For business owners in Perth looking to enhance their commercial landscape, there is plenty of low costs, yet highly effective solutions that can attract new clients and create an inviting, peaceful, and productive workplace.
By working with the seasons, using your outdoor areas to reflect your business values—in both form and function—and investing in a proper property maintenance plan, your commercial landscape can take your business to the next level.
Externals Landscape Services is one of Perth's leading commercial landscaping companies. Our expert team is highly experienced in creating and maintaining commercial grounds that follow the principles of form and function, so you get an attractive outdoor area that reflects your business values—and makes a fantastic first impression.
Get in touch today and let's create a landscape that helps your business shine.